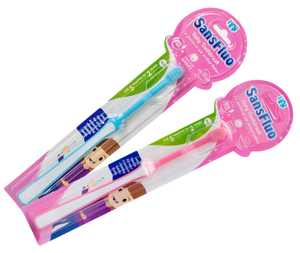 The SansFluo Pen-grip Toothbrush is designed for parents to hold and use on their baby's teeth, with a long handle to gain easy access and clean the hard to reach baby molars. Studies have shown that holding the toothbrush in a pen grip using just the thumb and forefinger, rather than by resting the toothbrush in the palm of the hand and being held with four fingers, results in less pressure being applied when brushing thus preventing gum injury and causing less tooth substance loss due to abrasion. Comes in blue and pink.
Suitable for ages 0-2 years old
If out of stock, email us to have it shipped to you within the week.