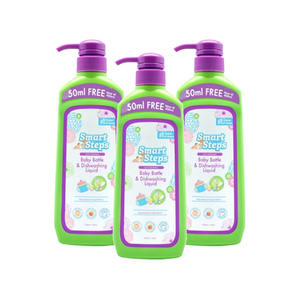 Smart Steps Baby Bottle and Dishwashing Liquid

- Specifically Made for Babies
- Best for cleaning baby's utensils
- Antibacterial Formula
- Natural Based Ingredients
- Easy Rinse Formula
- Safe for Fruits and Veggies
- Perfect for baby's utensils, feeding bottles, or anything that comes in contact with your baby's mouth.
How to Use
1. Dilute 5-10mL (2-3 pumps in 1L water.
2. Soak feeding bottle, nipples, feeding utensils, toys, and other baby accessories into the solution for 30 seconds.
3. Clean all baby items using a sponge or brush.
4. Rinse thoroughly with water. For infants' belongings, sterilization after cleaning is still recommended. For fruits and vegetables, immerse into solution for 1 minute then rinse with running water.
Ingredients
Water, Mild and Plant Derived Surfactants, Edible Flavors, Sodium CMC, Sodium Benzoate, Citric Acid
Expiry
3 Years from Manufacturing
Special Instructions for Storage and Handling
Keep away from direct sunlight
If out of stock, email us to have it shipped to you within the week.