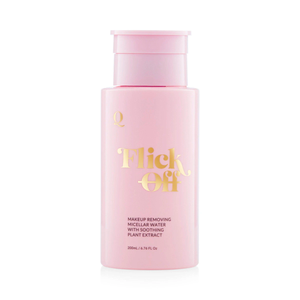 P202.40/fl oz
Make Up Remover. Micellar Water. Suitable for use on brows, eyes, lips and face.
Pregnant and Nursing Mom Friendly. Non-toxic Formula. Vegan. Can remove stubborn Makeup. Lash Extension Safe. Cruelty Free. 6.67 fl oz


How to Use
Pump the Nozzle with cotton, then use as a normal Make Up remover.

Ingredients 
Water, propylene glycol, hydrogenated castor oil, PEG-7 glyceryl cocoate, polysorbitol-20, sodium coconut oil acylglycine, root extract of sophora flavescens, root extract of glycyrrhiza inflata, root extract of scutellaria barcalensis, leaf extract of bilberry vaccinium vitisidaea, fruit extract of citrus grandis, ethyl lacryl urea.
Expiry
PAO 6 months
Special Instructions for Storage and Handling
Keep in cool /dark place. Room Temperature. 
Do not place on direct sunlight.
Fragile, take care not to fall.

Net weight: 200g / 7 oz
Product dimensions: 13 x 6 x 6 cm
If out of stock, email us to have it shipped to you within the week.