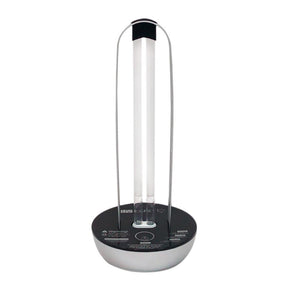 When it comes to the health of our families, we will stop at nothing to ensure their 100% protection. In these changing times, we are not only relying on a healthy lifestyle to keep ourselves and our loved ones healthy; we are also using products that could control our environment on a microscopic level. That is what UV Care is here for.
Eliminates up to 99.9% of harmful germs, viruses, bacteria and molds
Perfect for sterilizing rooms and spaces for homes, offices, schools, clinics, and hospitals.
It can effectively sterilize an unobstructed surface area of 20 sq meters.
Sterilization Time: 15/ 30/ 60 Minutes
One-Button Operation (Red-15 mins/ Green-30 mins/ White- 60 minutes)
For best results, keep the door closed at all times, switch off the lights in the room and draw the curtains or blinds
Safety features include a 360° motion sensor (8 meters) and 30-second time-delay. Be sure to keep people, pets, and plants out of the room during sterilization.
Lamp Life: 10,000 Hours (approximate)
Lamp Wattage: 38 Watts
Rated Power: 38 Watts
Power Supply: 220 V
Color: Black and Silver
Product dimensions: 42cm (H), 18.8 cm (Base Diameter); Net Weight: 0.55 kg
Box Dimensions: L-19 cm x W-19 cm x H-43 cm; Gross Weight: 2 kg
Package Inclusions: Unit, Manual, Warranty Card
With 1 Year Local Supplier Warranty

Terms and Conditions:

Outright Replacement for Factory Defects: Seven (7) days.
A. If purchased through a physical retail channel, you may return and replace your unit directly at the store.
B. If purchased through the website, you may return and replace your unit at our Service Center. All shipping and handling charges will be shouldered by UV Care.
Our unit comes with one (1) year limited warranty for service and parts, three (3) months for the bulb.
The warranty does not cover unusual wear and tear, damage resulting from accident, unreasonable use of product, unauthorized repairs, products that have been removed of its serial number, and products that have been modified or misused in any way.
How to Use
Plug to a 220 V outlet to start.
Press the power button.
Choose desired sterilization time (Press once for Red-15 mins/ Press twice for Green- 30 mins/Press thrice for White- 60 mins).
Lamp will turn on after the 30-second time-delay.
Sterilization process will begin.
Unit will auto shut off after desired sterilization time.
Store properly in a dry and safe place.
How to Deactivate the Motion Sensor:

Long press the power button for 6 seconds.
When you hear the beeping sound, the lamp will turn on after 30 seconds.
Standard sterilization time for deactivated motion sensor is 60 mins.


 

Net weight:  2 kg

Product dimensions: 7.48 x 17.48 x 16.93