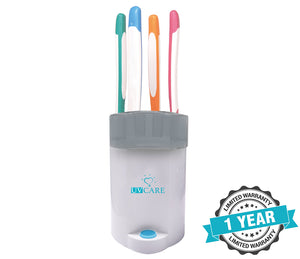 If you have a sink inside your bathroom, chances are it is teeming with germs. All surfaces do, actually. So if you put down your toothbrush on any surface, germs will transfer to it. It's not that scary, until you realize which part of your body you are using your toothbrush.

Before storing your toothbrush, be sure that it is rid of all germs. Use the UV Care Family Toothbrush Sterilizer to remove all chances of bacteria getting inside your mouth.

The Family Toothbrush Sterilizer sterilizes up to 4 toothbrushes in under 7 minutes.

Product Description:

Uses germicidal UV-C light technology which effectively kills up to 99.9% of invisible bacteria and viruses (including S. Hemolyticus bacteria, E. Coli Fecal Bacteria, S. Aureus Fatal Bacteria, and F. Nucleatum Deadly Bacteria)
Lab-tested, chemical free, and doctor-recommended
Can simultaneously sterilize up to 4 toothbrushes at a time in under 7 minutes
Includes pegs for smaller toothbrush heads
Can also be used for electric toothbrush heads
With drip tray for excess water
Dimensions: 13.5 cm X 8.5 cm
Diameter: 9 cm • 4 Watt UV-C Light
Weight: 0.5 kg
Power Source: 3xAA Batteries or Adapter (220 V)
With 1 year Local Supplier Warranty
Package Inclusions:

1x Adapter
1x User Manual
1x Warranty Card
Terms and Conditions:

Outright Replacement for Factory Defects: Seven (7) days.
A. If purchased through a physical retail channel, you may return and replace your unit directly at the store.
B. If purchased through the website, you may return and replace your unit at our Service Center. All shipping and handling charges will be shouldered by UV Care.
Our unit comes with one (1) year limited warranty for service and parts, three (3) months for the bulb.
The warranty does not cover unusual wear and tear, damage resulting from accident, unreasonable use of product, unauthorized repairs, products that have been removed of its serial number, and products that have been modified or misused in any way.


How to Use
To turn on, simply press the power button to turn on the unit and begin sterilization. Sterilization last for 7 minutes.

Net weight: 0.5kg

Product dimensions: 3.94 x 3.54 x 6.89

If out of stock, email us to have it shipped to you within the week.