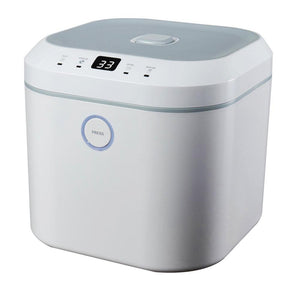 It may look small but the UV Care Multipurpose Sterilizer Lite 1 can fit a lot. Moreover, it also has a drying function which totally destroys any chance of bacteria growing back.

Product Description:

Eliminates up to 99.9% of harmful germs, bacteria, viruses, allergens and molds using UV-C light technology
Lab-tested, chemical free, and doctor-recommended

Power Supply: 230VAC - 60Hz
Rated Input Power: 85W
Interior Dimension: 10in (w) x 10in (l) x 9.8in (h)
Sterilizing Temperature: 55ºC ± 10ºC

No. of Lamps: 1 unit – 4W
Unit Weight: 2.5kg
Unit Dimensions: 11 in x 11 in x 9.5 in
Box Dimensions: 12 in x 12 in x 12.75 in
Comes with 1 year Local Supplier Warranty
Package Inclusions:

1x tray
User Manual with Warranty Card
2x HEPA Filter
Terms and Conditions:

Outright Replacement for Factory Defects: Seven (7) days.
A. If purchased through a physical retail channel, you may return and replace your unit directly at the store.
B. If purchased through the website, you may return and replace your unit at our Service Center. All shipping and handling charges will be shouldered by UV Care.
Our unit comes with one (1) year limited warranty for service and parts, three (3) months for the bulb.
The warranty does not cover unusual wear and tear, damage resulting from accident, unreasonable use of product, unauthorized repairs, products that have been removed of its serial number, and products that have been modified or misused in any way.


How to Use
Recommended for sterilizing baby bottles, nipples, pacifiers, teethers, toys, books, sippy cups etc.
Fits up to 12 baby bottles and also perfect for plates, cups, utensils, chopping boards and sponges; 4 Functions: UV Sterilization (10/15/20 mins. sterilization, 1 min. air exchange),UV Sterilization + Heat (30/40/50 min. drying, 10 mins. sterilization, 1 min. air exchange), Drying (30/40/50 mins. drying, 1 min. air exchange), Maintain/Store (1 sterilization cycle mode every 2 hours)

Net weight: 2.5kg

Product dimensions: 12.20 x 12.20 x 13


If out of stock, email us to have it shipped to you within the week.