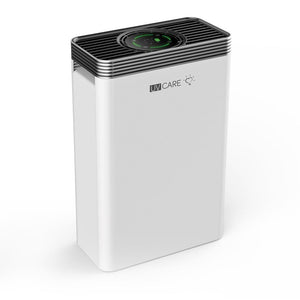 Indoor air is proven to be hundreds of times more polluted than the air outdoors, and it worsens as the number of inhabitants inside an indoor space increases. Let UV Care help you breathe in clean, germ-free air.

What are the 6 stages of filtration found in every #UVCare Clean Air 6-Stage Air Purifier?

Washable Elementary Pre-Filter that traps large particles like hair, dust, and dirt.
99.97% True HEPA (High Efficiency Particulate Air) Filter that traps finer particles like soot, pollen, dander/pet hair, and finer dust.
Activated Carbon Filter that eliminates smoke, strong odor, and harmful gases.
Cold Catalyst Filter that oxidizes and breaks down compounds and toxic substances such as benzene, ammonia, TVOC, etc.
UV Lamp that eliminates pathogens on a DNA level through UVGI (Ultraviolet Germicidal Irridiation).
Negative Ions that clears the air of airborne allergens.
Product Description:

6 Stages Filtration (Washable Elementary Pre-Filter, HEPA Filter, Activated Carbon, Photo Catalyst Filter, UV Lamp, Negative Ions), 99.9% PM 2.5 Purification Rate, 97.6 % Germ Purification Rate, 96.2% Formaldehyde Purification Rate
NOTE: Filter/s are not washable
Clean Air Delivery Rate (CADR): 260 m3/h
Negative Ion: 20 million pcs/ cm3
Air Quality Indicator: Green - Excellent Air Quality, Blue - Good Air Quality, Yellow - Normal Air Quality, Red - Poor Air Quality
Wind Speed: 3 Speeds + Automatic
Functions: PM 2.5 Sensor, Timer, Sleep, Child Lock
Control Panel Shortcuts: Temperature (SLEEP + SPEED), Child Lock (SLEEP + TIMER), FILTER RESET (TIMER+SWITCH)
Coverage Area: 30 sq meters
Rated Power: 45 W 50/60 Hz; Voltage: 220 V
Power Cord Length: 1.87 m
Noise: 61 dBa
Main Material: ABS Plastic
Product Dimension: L- 33 cm x W-17 cm x H-51 cm
Product Weight: 4.5 kg
Box Dimension: 39 x 24 x 58.5 cm
Box Weight: 6.0 kg
Comes with 1 year Local Supplier Warranty
Terms and Conditions:

Outright Replacement for Factory Defects: Seven (7) days.
A. If purchased through a physical retail channel, you may return and replace your unit directly at the store.
B. If purchased through the website, you may return and replace your unit at our Service Center. All shipping and handling charges will be shouldered by UV Care.
Our unit comes with one (1) year limited warranty for service and parts, three (3) months for the bulb.
The warranty does not cover unusual wear and tear, damage resulting from accident, unreasonable use of product, unauthorized repairs, products that have been removed of its serial number, and products that have been modified or misused in any way.

 

Net weight:  18kg

Product dimensions: 17.09 x 10.24 x 23.23


If out of stock, email us to have it shipped to you within the week.