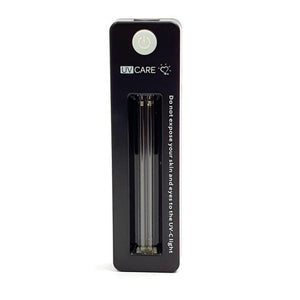 UV Care ZAP is UV Care's revolutionary new product that is the answer to your UV-C sterilization needs on-the-go and at home.

It comes with a rubber guard where you can attach an adhesive strip so you can easily and securely attach the device on almost any surface and power on to sterilize with our premium UV-C light technology.
Easily sterilize your groceries in the trunk while you're on the road back so you won't have to worry about disinfecting them when you get home.
You can also attach #UVCare ZAP to the interior of your glove compartment and sterilize parking cards, money, your phone and other small items.
Have you been having food delivered to your home regularly these days? Or buying a lot of things online? Why not recommend UV Care ZAP to your favorite delivery app and online shop?
Sterilize the interiors of your document drawers and clothing cabinets with UV Care ZAP.
And many more home and portable solutions!
Product Details:

Eliminates up to 99.9% of harmful germs, viruses, bacteria and molds
Perfect for sterilizing small spaces like delivery bags, kitchen cabinets, trash bins, storage boxes, toilet bowls, drawers, closet, shoe cabinets, and lockers
Emits just the right amount of ozone gas to rid of foul odors
Sterilization Time: 5 Minutes (Allow additional 5 minutes down time to properly air out space)
Coverage Area: 1 cubic meter
Rechargeable, Portable and Easy to Use
Charging Time: 5-6 Hours (Full Charge)
Color: Black
Rated Power: 3.0 Watts
Power Supply: 3.7 V/ 500 mAh
Lamp Life: 8,000 Hours (approximate, lamp is not replaceable)
Ozone Density: ≥ 0.01 ppm - ≤ 0.05 ppm
Safety Feature:
3-Second Time Delay
UV-C lamp auto shuts off when flipped upwards
UV-C lamp auto shuts off when raised at a 45-degree angle
Product Dimensions: L-13 cm x W-3.8 cm x H-1.7 cm; Product Weight: 0.1 g
Box Dimensions: L-13.5 cm x W-7.6 cm x H-2.5 cm; Gross Weight: 0.2 kg
Package Inclusions: Silicone Protective Sleeve with Double-Sided Adhesive Strip, Micro USB Cable (For Charging)
With 1 Year Local Supplier Warranty

Motion Sensor Orientations:

Power Button on Top

(Light turns off when placed upright)

Power Button on the Bottom

(Light remains on when placed upright)

Delivery Bags

Kitchen Cabinets

Garbage Bin

Shoe Closets

Toilet Bowl

Lockers

Storage boxes with Flip-top Covers

Fixed Installations


Terms and Conditions:

Outright Replacement for Factory Defects: Seven (7) days.
A. If purchased through a physical retail channel, you may return and replace your unit directly at the store.
B. If purchased through the website, you may return and replace your unit at our Service Center. All shipping and handling charges will be shouldered by UV Care.
Our unit comes with one (1) year limited warranty for service and parts, three (3) months for the bulb.
The warranty does not cover unusual wear and tear, damage resulting from accident, unreasonable use of product, unauthorized repairs, products that have been removed of its serial number, and products that have been modified or misused in any way.


How to Use
How to Use:

Turn on the unit by pressing the power button for three (3) seconds.
UVC Lamp will turn on after three (3) seconds.
Sterilization process will begin and will last for 5 minutes.
Unit will auto shut off after sterilization time.
Allow an additional 5 minutes air out time for residual ozone to fully dissipate.

Net weight: 0.2 kg

Product dimensions: 5.31 x 2.99 x 0.98

If out of stock, email us to have it shipped to you within the week.