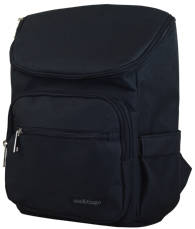 Petit Space is an insulated bag that allows you to keep milk and other beverages fresh, warm, or cold with enough space for other essentials.

Available in black.

How to Use 
The two side pockets give you extra storage space for your water bottles and other items you need.

Includes a changing pad and a dust bag.

Special Instructions for Storage and Handling
Wipe with damp cloth.
Net weight: < 2 kg
Product dimensions: 24 cm x 12 cm x 34 cm
If out of stock, email us to have it shipped to you within the week.