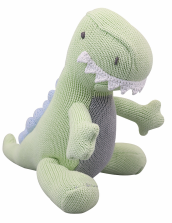 He might look scary, but he is total sweetheart! Truman the T-Rex is very easily scared so he prefers to play inside, he enjoys video games and his favorite food is pizza. Everyone is scared of him but he would never hurt anyone. Become Truman's friend, because all he needs is love!
·      12" doll
·      100% cotton and handmade
·      Suited for newborns and up (safe to contact mouth)
·      Tested 100% safe by US Product Safety Commission Standards
·      Made with eco-friendly, low-impact dyes
·      No choking hazards
·      Retains integrity even when stretched and pulled
·      Washable (hand or machine)
·      Can sterilize dolls before handing to baby
·      Polyester fiber filling
Designed in USA.
Proudly made in the Philippines
If out of stock, email us to have it shipped to you within the week.This item is not eligible for next day delivery, delivery from this brand will take 1-3 days.