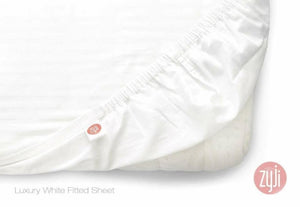 Our Luxury Bedding Collection Fitted Sheet is made of 100% Premium Hotel Linen Cotton with a luxurious high threadcount. With garterized corners to fit snuggly around your crib mattress.

How to Use
For Sleeping
Material
100% Luxury Cotton
Special Instructions for Storage and Handling
Machine Washable with lowest or delicate setting only. Do not bleach.
Net weight: <1kg
Product dimension
 Large (28"x52") for Wooden Cribs
Medium (26"x38") for Pack & Play Cribs
If out of stock, email us to have it shipped to you within the week.